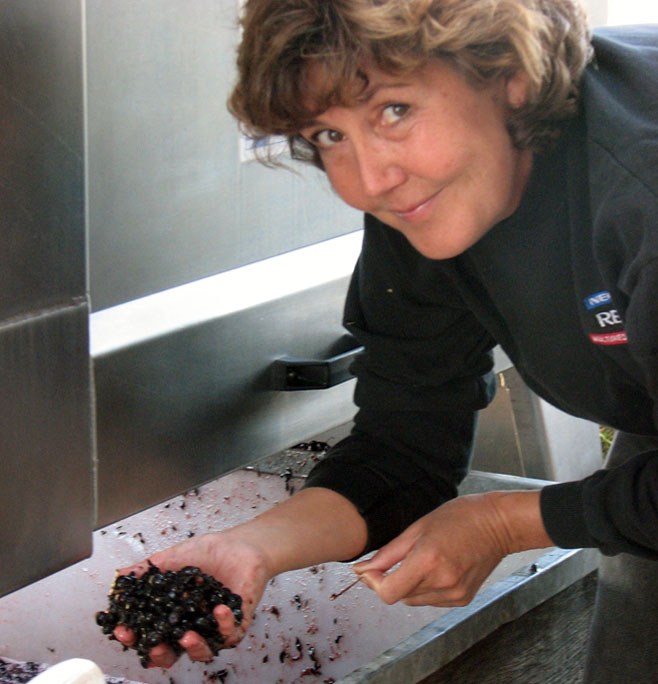 Back in the early and crazy hey-day of the personal computer explosion, Karen Steinwachs and Dave Robinson (wife and husband) would escape the world of PCs, CPUs and LA traffic for trips to Santa Barbara wine country and Pinot, Chardonnay and bucolic country roads.
As with any industry, the tech world changed and both went off to the allure of start-ups and the seduction of possible stock options and IPOs (neither, unfortunately, happened!) In 2001, Karen had "dropped out" for just a few months and was working as the lowest of the low in a winery, a cellar rat shovelling stems, cleaning out fermenters, hefting barrels… In 2007, her seventh vintage in the wine business, Karen became the winemaker at Buttonwood Farm Winery where the altruistic folks there (Bret, Seyburn, Barry and the rest of the cru) give them the freedom to make Seagrape Wine Company wines.
Dave, meanwhile, finally had enough of freeway congestion and transitioned his business in 2005 to Lompoc, where he provided wineries with logistics, warehousing, website and e-commerce solutions through Vintegrated Solutions.  Both were now immersed in the congenial camaraderie of Santa Barbara Wine country.
Sadly, Dave died suddenly in 2014, leaving his earth far too soon at just 54 years of age. The celebration of his life was a snapshot of the region – food, wine, beer, chefs, winemakers, clients, friends, farmers, musicians. No one could've asked for a better send-off.  All donations made to charitable organizations are a magnum of "Dave's Cuvée", the most delicious Pinot Noir from Dave's beloved Sta. Rita Hills that Karen can craft.
Today, Seagrape Wine Company continues.  No "Sig Alerts", not a cubicle in sight, no power suits or uncomfortable shoes. And every morning, as the marine fog rolls in from the nearby Pacific Ocean through the Sta. Rita Hills and Santa Ynez Valley winegrowing regions, we're reminded of the ocean and the vineyards and wine – Seagrape, Chardonnay and Pinot Noir from Sta. Rita Hills!